New Reserve Red Wine Launch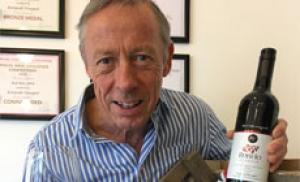 A Shropshire vineyard on the Powys border have launched a new special edition Award Winning Red wine.
Kerry Vale Vineyard, near Montgomery, established in 2010, have been consistently winning awards for their wine since their first vintage in 2013. Following a successful harvest in 2016, they are excited to announce the launch of a new Red wine from this vintage.
Working closely with award winning wine makers at Halfpenny Green Vineyard the family has developed this Award winning red wine using their Rondo grapes.
This new red wine called 'Rondo Reserve' won the Hinnighan Cup for Best Western Region Wine, and the Heart of England Trophy for Best Red Wine in last years esteemed Mercian Vineyards Association (MVA) competition which is judged to International standards.
The Mercian Vineyards Association (MVA) is an organisation dedicated to English & Welsh wine and wine making in the 'Mercian' or midlands region and has a total of 56 vineyard members. It encompasses vineyards from a huge region covering the Scottish and Welsh Borders to the North and West, and Staffordshire and Lincolnshire to the South and East.
This new reserve wine will have a broad appeal and has been hand crafted for the palette of their ever increasing customer base. With just under 2000 bottles made, this special vintage has been gently oaked for optimal taste and subtle tannins and will retail at £16 per bottle.
Vineyard owner Geoff Ferguson commented: "This is an exciting new product and a very welcome addition to the Kerry Vale range" He described the wine as "Deep ruby in colour, with an intense aroma of roasted pepper, eucalyptus and spice. A touch of vanilla with pleasant sweetness on the finish. This wine is great with red meat, tomato based dishes and cheese".
He went on to say "The cool English climate gives a fresh and light style to our wines that sets them apart from their International counterparts, as more delicate grapes mean the wines retain a more subtle, fruity flavour which is often lost in rival countries offerings."
If you'd like to try some of Kerry Vale's award winning wines, you can buy online, visit their shop and wine café or book yourself onto a vineyard tour (available until the end of November) and find out how they grow and maintain their vines to achieve the best quality grapes. Visit
www.kerryvalevineyard.co.uk.
Back