Blackpool Tower Circus Returns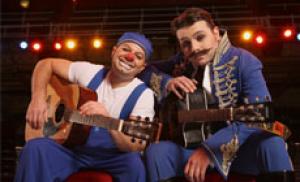 Blackpool's famous circus is back with its most daring and rib tickling show to date!
The Blackpool Tower Circus returns on Saturday 6th April for its new season and, in anticipation of this, it has just been announced that this year's theme will be all things "Carnival!"
2019 is set to be an exceptional year for the circus as The Blackpool Tower celebrates 125 years since its opening in 1894. The Blackpool Tower Circus has never missed a season since it opened all those years ago.
Loveable clowns, Mooky and Mr Boo, return for their 28th year and surely their best season yet, as they welcome acts from every corner of the world to perform in the world famous Blackpool Tower Circus ring.
This year, expect the unexpected with death defying stunts, tricks and performances, all with a dash of comedy throughout including a sensational trapeze performance, extraordinary hoola hoop spectacle and sensational knife throwing act.
Stay tuned until the very end for a special water finale featuring a never seen before giant lifestyle elephant replica.
Mooky said: "We cannot wait to get started with this new season and new show for 2019's big year at The Blackpool Tower.
"We're counting down the days until we can get back in the ring to do what we love more than anything else – entertaining thousands of people!"
Kenny Mew, general manager at The Blackpool Tower, added: "Blackpool is the spiritual home of circus in this country.
"The Endresz family has once again put together an unbelievable show. I have no doubt that it will be a great season for the circus and this year we are excited to showcase our latest theme – carnival – that is set to be full of fun.
"We have some really exciting plans in the pipeline to mark this special occasion that will further cement Blackpool's status as the home of circus. I would say, watch this space!"
Back