The Museum displays a wide range of Brooklands-related motoring and aviation exhibits ranging from giant racing cars, motorcycles and bicycles to an unparalleled collection of Hawker and Vickers/ BAC-built aircraft, including the Second World War Wellington Bomber and the only Concorde with public access in South East England. Also on site is the Award-winning Aircraft Factory and Flight Shed exhibitions chronicling the incredible 80 year aviation history at the site that started with the earliest flight trials of A V Roe, through two World Wars and into the jet age and supersonic flight.
Brooklands Museum offer special group packages, including the option to get an introductory talk to the museum.
Group packages are available for groups of 15 or more.
Visit our website for full details of our packages and admission prices. Group visits must be booked in advance, please email virginiasmith@brooklandsmuseum.com or telephone 01932 857381 ext. 248 to make a booking.

TRAIL GUIDE
Trail Guides are provided free on request and take you on a self-guided tour around the Museum, taking at least 2 hours. They may be obtained at the main entrance in the Shop or from the Visitor Services desk in the Clubhouse.

GUIDED TOURS
We may be able to arrange guided tours on weekdays at an additional cost. Guided tours take approximately 2 hours and we provide one Guide for a group of 15 to 20 people. Guided tours must be booked at least two weeks in advance and are subject to availability. Guided tour costs can be viewed here.
THE 4D THEATRE
Inside the balloon Hangar building, we have created a 4D Theatre that provides the closest experience any living person will have of "driving" around the Brooklands Race Trak, at Le Mans or "flying" with the Red Arrows. Visitors to the Museum can now take their seats for the ride of their life in a state-of-the-art 4D Theatre and we have three fantastic rides for you to enjoy.
For ticket and more information about the 4D Theatre, please click here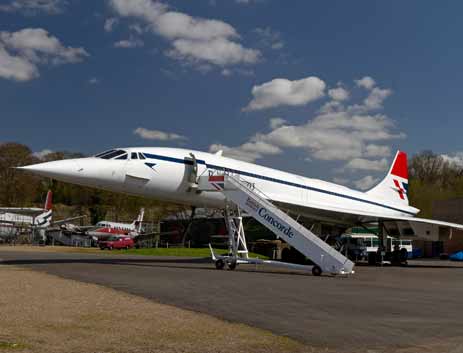 THE CONCORDE EXPERIENCE

This 30 minute visit on board Concorde G-BBDG includes an introductory talk, a walk-through exhibition in the rear cabin followed by a virtual supersonic 'flight' experience in the front cabin piloted by Captain Mike Bannister. Tickets for the tour must be pre-booked either in advance (tickets to be collected at least half an hour before the flight) or on arrival at the Museum. A maximum of 3 children per adult may be booked, or 6 children per adult for primary-age educational groups and 10 children per adult for secondary educational groups.
Supplement charges apply per passenger, for prices and more information about the Concorde Experience click here.

Additional useful information:
Free coach and car parking
Free pre-visits for group organisers
Indoor lunch areas
Gift shop
Toilets and disabled toilets
Hot and cold drinks and snacks available from the Sunbeam Cafe
Wheelchair access (apart from some walk-through aircraft)
Brooklands Museum has an exciting programme of events running all year and during the school holidays, we run special activities and workshops, including vintage car rides along the famous Race Track. A full list is available on our website here.

Opening Times
We are open every day, apart from a few days over Christmas.
Summer 10am – 5pm
Winter 10am – 4pm

CATERING
The Sunbeam Cafe offers sandwiches, cakes and snacks throughout the day and a selection of hot and cold meals from 12-2.30pm. For groups of 35 or more our Catering Team can provide a 2-course buffet lunch with tea or coffee in a private room. Please telephone 01932 858005 to discuss menus and any special requirements.